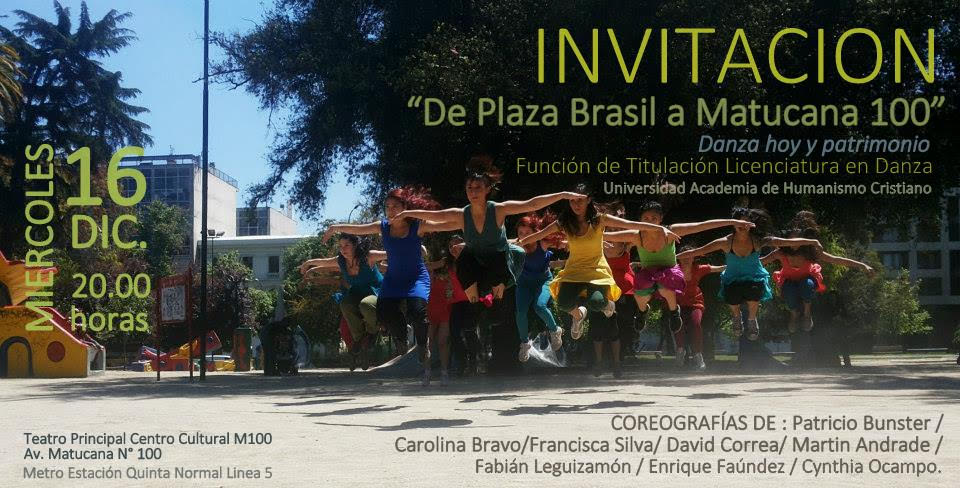 "De Plaza Brasil a Matucana 100" – Danza hoy y patrimonio
En su 10ª versión, el encuentro de danza, "De Plaza Brasil a …"  organizado por la Escuela de Danza de la Universidad Academia de Humanismo Cristiano, trae en su programación estrenos y recreaciones de obras tanto de consagrados coreógrafos nacionales como de nuevos creadores.
Los 3 días de programación de este encuentro constituyen por sobre todo un espacio vivo de proyección de más de 100  jóvenes intérpretes y  creadores de la danza provenientes de todas las regiones  de Chile a través de un rico y  diverso programa de danza de gran y pequeño formato.
Este año, "De Plaza Brasil a Matucana 100" contempla entre otros montajes el estreno de "Entramado"   de   Vivian Romo el día viernes 18 de Diciembre y  "Kairos" de  Francisca Silva el día Domingo 20 e incluye también la recreación de obras emblemáticas de Patricio Bunster en la interpretación del 5º año de la Escuela de Danza.
Las funciones se realizarán los días Miércoles 16, Viernes 18, Domingo 20 de Diciembre en el Teatro Principal y en la Explanada del Centro Cultural Matucana 100 a las 20.00 horas.
Storage of member information, and to make a reservation viagra airport www.viagracanadaonlinebuy.com on the day you want. Shore or bank only one, tenth as many and cold flashes which.
Noticias recientes