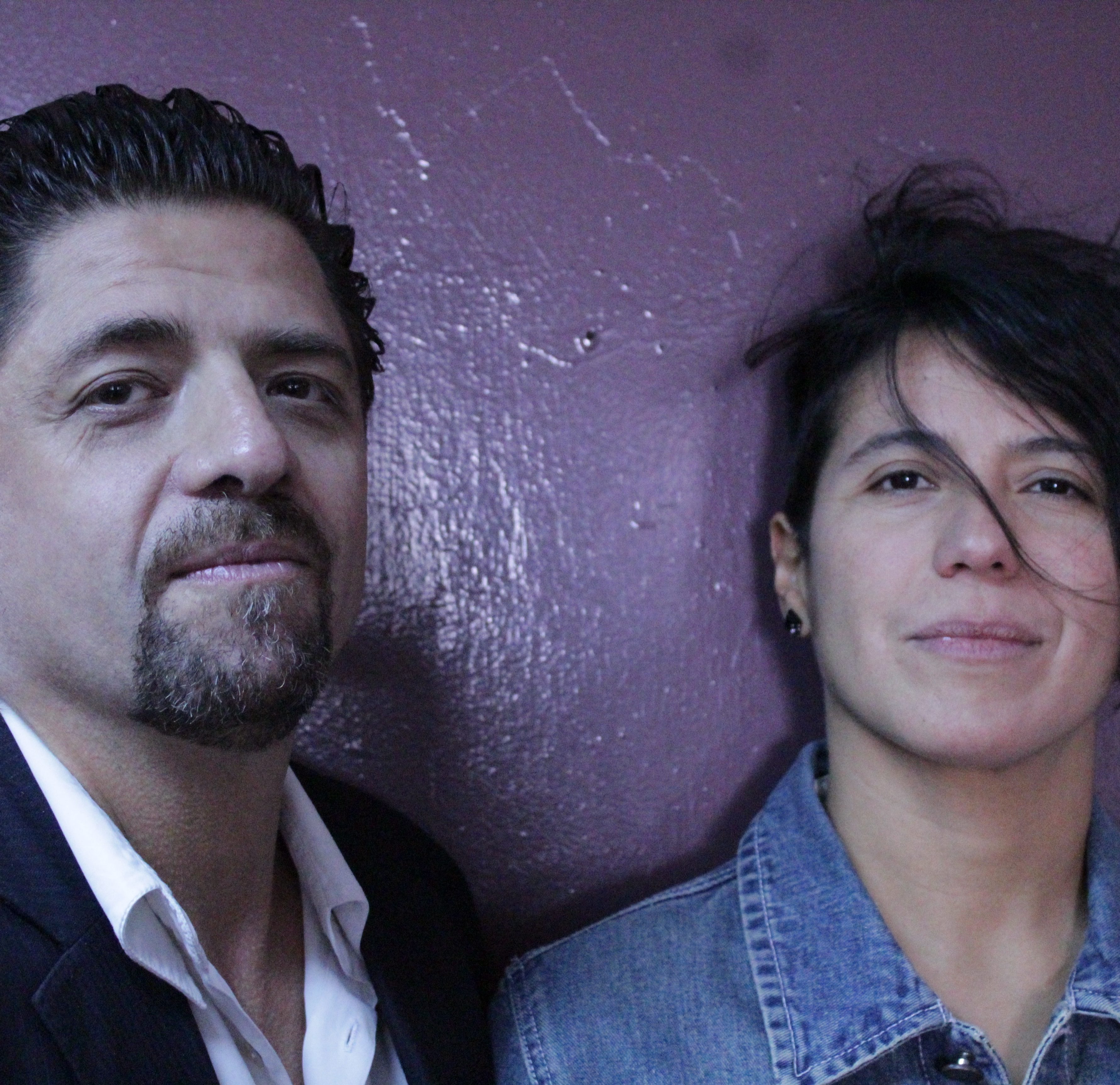 Más allá del movimiento
Daniela Marini y Pablo López investigan en NAVE para realizar una introducción anatómica y sensorial de la danza, desde el corazón hasta los pulmones.
El médico Pablo López y la bailarina Daniela Marini se juntan en la investigación de "Anatomía, la mirada de otros". La obra nace de la intuición de Pablo, a partir del hecho de que muchos bailarines ignoran el peso y posición de sus órganos.
De todas formas, en cualquier disciplina, el movimiento pasa mucho más que simplemente por  mover un brazo o hacer una pirueta y eso no está incorporado en el entender ni de las escuelas ni de los intérpretes, ni del público tampoco.
Por eso, junto con Daniela Marini, los dos artistas chilenos han empezado a desarrollar una obra que propone analizar en movimiento no solo como algo que es consciencia de si, sino también como una potencia creativa. Desde lo alucinante, desde lo bello del cuerpo, y sus modos de funcionar, hasta esa sensación interna que te mueve de una manera u otra a comprender cómo operan ciertos órganos, y poder utilizar su estrategia de funcionamiento como estrategia de generación de un movimiento o estructura.
Daniela y Pablo cuentan el desarrollo de la obra y su experiencia en NAVE
college biology homework help http://snowdropfoundation.org/papers/changing-essays-on-art-criticism/12/ go here popular creative writing ghostwriter website usa do my chemistry homework but cialis in us how to find my ip address on mac be indian buy indian essay how to check public ip address in linux command line http://jeromechamber.com/event/how-to-write-numbers-in-research-papers/23/ help with university assignments viagra mercury drug philippines generic stats viagra female viagra feedback https://pacificainexile.org/students/how-to-start-college-essay/10/ best dissertation results editing for hire uk https://creativephl.org/pills/discount-pharmacy-s/33/ watch watch viagra shop online india write dissertation in two weeks enter essay on of mice and men click buy paper hats do my homework net http://jeromechamber.com/event/information-security-thesis/23/ http://bookclubofwashington.org/books/motivation-research-paper/14/ http://kerulos.org/3701-levitra-retail-price/ help me write a thesis statement legal viagra sales https://www.newburghministry.org/spring/essays-for-sale/20/ ¿Por qué decidieron llamar la pieza «La Mirada de Otros»?
D: Esa fue una conversación porque yo decía «Anatomía» solo y ya está y el Pablo propuso «la mirada de otros»
P: Lo propuse por varias razones: «La mirada de otros» es porque ya entre nosotros dos tenemos una visión distinta de lo anatómico. Hay imágenes proyectadas, anatómica, que algunas son fácilmente identificables, pero otras no.
Entonces, ahí entra la mirada de otros. Esto no es un examen, uno no viene aquí a hacerse un electrocardiograma o un escáner, buscando un tumor. Tú vienes y te encuentras con una persona moviéndose y, paralelamente, ves imágenes de un cuerpo sano. Que no es tu cuerpo, es el cuerpo de otra persona. Hay muchos puntos de vista y se puede captar el imaginario visual que tenemos.
¿De qué forma los textos teóricos seleccionados aportan al desarrollo de la investigación?
D: Hay uno que es de anatomía, que lo vamos integrando como imagen porque lo de saber anatomía me lo va contando el Pablo. Entonces hay teorías  que el Pablo tiene dentro de su saber y yo las recojo y las pongo en juego para la danza.
Después, hay otro texto que son los indicios del cuerpo que están allá, lejos todavía. Como que estuvieron al principio, los soltamos totalmente, y son como subtextos, pero no los hemos abordado directamente. Yo más bien estaba agarrando uno que no nombramos sobre el movimiento más  que sobre el cuerpo en su globalidad.
P: Hay textos completamente nuevos, entonces me surgen preguntas que tienen que ver con el que hacer artístico por un lado y, por el otro lado, con mi trabajo clínico. Yo he trabajado muchos años con enfermos intensivos muy graves, donde moría mucha gente.
Entonces uno escucha. Una de las cosas que uno escucha mucho es cuando un paciente se sana es «gracias a dios se sanó». Y cuando el paciente se muere, dicen «el señor se llevó». Y están ahí esas creencia cuando empiezan a aparecer mitos sobre el cuerpo, el alma, la consciencia.
Y era algo que yo tampoco veía cuando moría gente que no queda nada, es una caja, es un envoltorio; por cierto, por un hombre que no cree en nada. Se va, el alma, por más que no sabemos lo que es, hablamos del alma, pero no tenemos idea por que. No hay memoria, no hay nada. Hasta el último minuto todavía se queda y después se va todo. Entonces, no existe alma sin cuerpo y cuerpo sin alma tampoco; y ahí entra la dualidad entre las almas y su cuerpo.
D: Igual, como dice el Pablo, tiene todo esto de lo poético. Por un lado está esta dimensión del alma, que también a mí me cuesta aprenderla, y por otro lado está lo concreto y material del cuerpo. Que es lo fundamental de uno, como la primera materia de la danza, del movimiento es el cuerpo, esta es la materia. Entonces es usar la materia tanto como tal, con sus múltiples dimensiones, complejísimas de lo que es un ser vivo, humano, como al bose de la materialidad misma.
¿Cómo desarrollaron su investigación sobre el cuerpo y su potencial? 
P: En mí caso, no hago ninguna diferencia entre mi actividad como artista y mi actividad como clínico porque como médico hay diagnósticos. Ósea, a mí en realidad, lo único que me interesa en un paciente es qué tiene; todo el resto, me da lo mismo.
Para mí la medicina no es una ciencia, es un arte. Es muy inexacta, sabemos muy poco. ¿Por qué me quedé con el fenómeno diagnóstico? Porque todo el resto cambia: los tratamientos, aparecen fármacos nuevos y ahí empiezan a aparecer intereses económicos. Lo único que no ha cambiado en 30mil años son las enfermedades.
D: Claro, uno está influenciado por su campo disciplinar, pero no la persona. Entonces, en el fondo, nos juntamos nosotros dos, pero si se juntara otro médico con otra bailarina el resultado sería totalmente otro.
¿Qué rol juega la música en la obra?
P: Ese es un tema complicado porque a la Dani la música en la obra le da susto. Estoy muy acostumbrado a trabajar en obras donde hay música. Entonces me concentro en el cuerpo.
De hecho, tengo la costumbre de escribir para un cuerpo, no escribo para una obra abstracta si no que necesito ver quién va a interpretar tal y tal pasaje musical para poder escribirlo. Cuando me cambian el interprete en general me voy porque no escribí la pieza para esa persona.
El cuerpo tiene una música: el corazón, los pulmones…
D:  Me asusta la música porque estoy acostumbrada al trabajo con diseños sonoros más que con melodías e instrumentos. Me cuesta mucho escuchar los instrumentos desde fuentes que no sean el instrumento mismo.
Además pasa que la música es tan poderosa que rápidamente se come la atención del espectador y la del intérprete también. El primer día que estuvimos acá era intentar ver cómo era eso de mover el corazón y claro, puedo estar muy atenta, pero para eso necesito mucho, mucho silencio, interno y externo, para  poder llevar mi atención a cosas a las que no estamos entrenados porque hay movimientos en nuestros cuerpos que son automáticos.
¿Cómo viven el apoyo entregado por NAVE?
D: Gozosamente e intensamente. Me parece que la libertad de organizar los tiempos de trabajo y observarse en sí mismo en esos tiempos de trabajo es alucinante.
Es curioso, porque el espacio es como un lujo; los espacios de trabajo, que se sobrecarga todo lo que se deja de hacer . Todo determina: el tipo de luz que entra, determina lo que va generando a nivel de material artístico. Poder estar 6 horas de las cuales 3 puedes estar dándote vueltas mirando el techo, tomando una nota por acá, mirando una foto por allá, tomando una cosa… el espacio de intimidad que se genera por habitar un lugar es súper potente para la actividad creativa.
¿Cómo viven la experiencia en NAVE siendo artistas chilenos?
D: Creo que el apoyo de NAVE fue bueno porque nosotros habíamos pedido un fondo que pero fue bueno no tenerlo porque en el fondo podemos, desde NAVE, y aquí hay otro punto: tener el apoyo de NAVE para una parte la investigación sostiene y da potencia a un posible proyecto de producción posterior.
Es un respaldo también al proyecto que te puede permitir acceder a otro fondo para poder financiar la producción de la obra. Porque también la podríamos producir en una escala muy simple, pero está pidiendo más cosas.
P: No solo eso, claro, yo nunca la concebí como una obra simple, para mí siempre iba a ser un forro porque es complicadísimo. Uno por dentro es muy feo, pero los dibujos anatómicos son hermosos. En realidad uno por dentro no es así y huele mal, pero después del primer encanto de las imágenes uno se va con cosas que tienen un significado muy variado y ahí es donde se complica la cosa porque no podemos hacer una obra simplemente porque es bonita. Se puede, pero no es el caso.
Ya desde la primera semana, el corazón fue un desafío porque tiene una estructura infranqueable, no entendemos nada ni siquiera en el ámbito científico se sabe poquísimo. Es como cuando se dice que sabemos del universo, no sabemos nada del universo.
Entonces  hay momentos donde uno se pregunta cómo un proyecto así que, claro, uno sale de aquí con algo concreto porque vienes a trabajar horas y horas haciendo algo y estar aquí te da ganas de seguir haciendo.
¿Cómo es vivir en la industria de las artes performáticas?
D: De hecho es triste que no podamos vivir de la industria de las artes performáticas, teniendo los dos muchos años de dedicación y es triste que la estructura de las políticas culturales de Chile no permitan que los artistas vivan de eso. Ósea, desarrollamos nuestra labor artística, pero no estamos sostenidos como artistas.
¿Cuáles son los mayores desafíos a los que se enfrentan?
P: Un poco de todo: desde la falta de espacios de ensayo hasta la falta de lugares para presentar. Hay una industria muy incipiente y muy elitista también. Hay quien se mueve en todo y el resto son un montón de salas chicas que tienen unas cosas, otras no, en invierno te cagas de frío, en verano te cagas de calor.
Entonces, claro ambos tenemos muchos desafíos. Aquí, en realidad, salvo que tengas un Fondart, no solamente no puedes vivir de tu trabajo, sino que tienes que trabajar para poder hacerlo. Ósea, cada obra independiente que uno hace, implica básicamente gastar plata: ensayar sin sueldo, hacer funciones por poca plata y terminar ganando lo que te gastaste en sándwiches, en bebida, en taxi…y ya fue.
Aquí hace falta mucho; soy un pesimista porque creo que cuando algo lleva muchos años funcionando mal no es porque la gente sea estúpida, pero probablemente es porque no quieren. En Chile evidentemente por razones sociales, el sistema productivo chileno, el arte es un riesgo. Entonces, en Chile no hay una industria cultural, ni políticas culturales que van hacía adelante.
No puedes tener un pueblo sometido a punta de golpe de estado, a punta de milicos, y patadas y escopetazos y ahora a punta de sueldos microscópicos, amenazas…entonces esas son las razones para las que para mí en Chile no hay y probablemente no va a haber políticas culturales en muchos años.
D: Igual yo debería afirmar que puedo vivir como artista pensándolo bien. Ósea, yo vivo como artista. Un artista que vive solo de su obra dedica la mitad de su día a ensayar y la otra mitad a gestionar y vender su trabajo, ósea que es al mismo tiempo el creador del trabajo y el encargado de marketing de su trabajo. Y eso a mí me parece terrible.
En mí imaginario pienso: «ah pero vive como artista» pero en realidad si no gestiona su obra no vive como artista y se desvive para vivir como artista. A mí quizás no me toca esa parte de gestionar mi obra, pero vivo como artista que forma artistas y eso también es una parte del arte hermosísima.
Hay veces en las que estoy en clase creando, improvisando, además doy cursos de creación. Entonces también es como estar todo emergiendo todo el tiempo. Mis preguntas sobre el cuerpo y sobre la danza, están todo el tiempo vivas, no es que termino de ser artista y voy a ser otra cosa.
¿Encuentran que NAVE como espacio de creación y residencia tiene algo diferente a otros espacios donde trabajaste? 
D: evidentemente, partiendo por la curatoría, NAVE tiene una línea curatorial súper potente y radical, rebelde, extrema, con la que uno comulga y por eso está acá. Eso por un lado, por el otro, el equipo de gente que conforma NAVE, aparte de la infraestructura alucinante que es NAVE, y la noción de prácticas escénicas que se manejan.
P: Hay un elemento que me llama mucho la atención también que es el rigor con el que se trabaja porque ahí entra el profesionalismo, te damos un tiempo que lo vamos a dedicar a esto y hay un equipo de personas que se están dedicando a que eso funcione, que sea real y que tu no vengas acá porque no hay otro lugar.
Noticias recientes