CONSUBSTANTIATION
[FUNCIONES] 14 y 15 de abril / 20 hrs.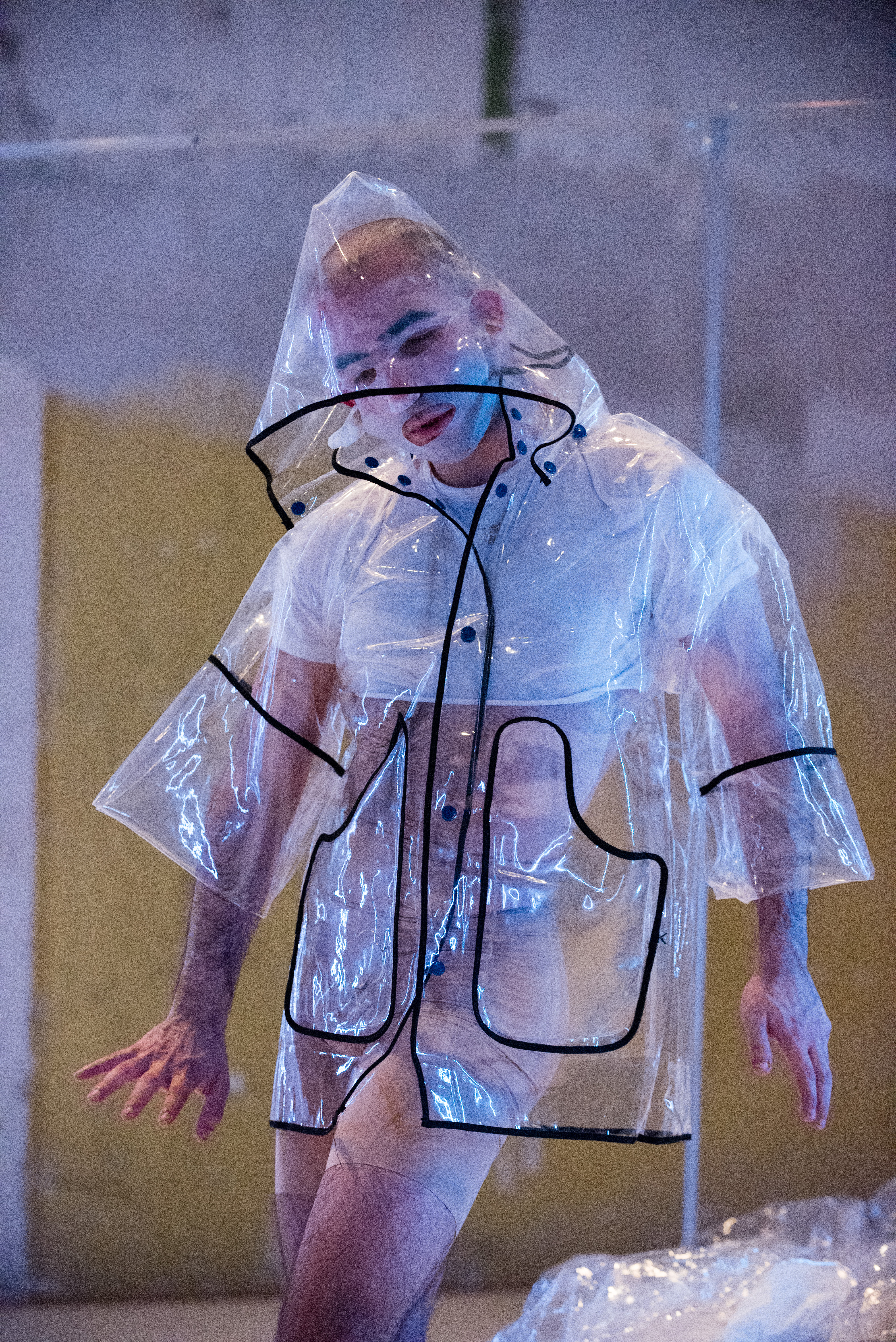 *** GET THE ENTRANCE PRESALE AT PREVENTA@NAVE.IO***
The Portuguese choreographer and performer Dinis Machado arrives at NAVE to realise two unique functions of a no-mimetic and post-somatic drag performance.
CONSUBSTANTIATION is a queer drag performance moving between the binary of gender and sexual identities. The performance develops with the creation of an "in-between" imaginary of both gender, sexuality and their materialisation: a human body getting close to the objectivisation of gender.
By adopting the objectivity as a mandala to achieve an ambiguous focus with respect to gender, the figure enters into a simultaneous and paradoxical process of auto-objectivisation and somatic disappearance, which means a cancellation of its subjectivity.
Dinis Machado investigates about a parallel gender imaginary, far from the dominant and sedimented aesthetic of pop queer.  An exercise of displacement where: glittery costumes give place to processes of hacking the body with geometrical objects of concrete materials; stylised choreographies give place to uncanny movement patterns; pop songs give place to multifarious and blurry identity narratives sang as a dodecaphonic opera, that produce more of an incomplete fiction than a narrative legitimation of the self.
This figure invests in uncanny conditionings and deformations of its body, finding in materiality, geometry, and plasticity a process of questioning the body in its self anthropomorphic representation and like that reclaiming a body of a queer materiality: that refuses to perform linear heterosexuality, maleness and anthropomorphism, and refuses paradoxically also to abandon it.
"It is as if [Machado], with his whole body, is trying to create another room, independently of the actual room we find ourselves in, here and now. A room just as imaginary as it is tangible." [Thomas Olsson/nummer.se]
CONSUBSTANCIATION is an immersive hybrid performance where poetry reading, documental interviews, fictional self biographies, and astrological readings come strangely together to generate the embodiment of a body and an identity that interrogates itself and questions it's paradoxical wholeness. Somehow in a strange place in between formats the performance gets together through the way these different materials construct and disfigure this body in a futuristic ritual that floats in between being ceremonial and proto shamanic
*This activity is meant for a over 16 public
Casting
original music by Birt Berglund (SE)
Radio Theatre soundwork by Eva Staaf (SE)
Voices by Rachel Tess (SE/US) Mariana Suikkanen Gomes (SE/BR) and Dinis M.
Pregnancy experience testimonies by Elisabete Finger (BR/DE) and Hanna Kangassalo (SE/FI)
Astrological chart reading by Irina Ponieman (AR)
Outside eyes: Vicky Malin (UK), Jorge Gonçalves (PT/DE), Kate Marsh (UK), Mandi Tiukkanen (SE/FI)
One day outside eyes: Catherine Hoffmann (UK), Gareth Cutter (UK), Flora Wesllesley Wesley (UK)
COORDINATES
Day: 14th and 15th of April
Time: 20:00 hrs.
Place: NAVE- Libertad 410, Santiago Centro. (Metro Cumming/ Quinta Normal)
Price: $1.500 for students (showing a student card), seniors and neighbours proving their address . General tickets are $3.000, 2×1 La Tercera
*The play is for people who are over 16
A production by BARCO (SE) | Coproduced by Weld (Stockholm, SE), METAL (Peterborough, UK), Dance4 (Nottingham, UK) and CND Centre National de la Danse (Paris, FR) | Created in residency at PACT Zollverein (DE), O Espaço de Tempo (PT), METAL (Peterborough, UK) , Dance4 (Nottingham, UK), Vitlycke – Centre for Performing Arts (SE), MARC (SE), Weld (SE), CND Centre National de la Danse (FR) and Mira Artes Performativas (PT) | With the Support of Kulturrådet (SE), Konstnärsnämnden (SE), Stockholmstad (SE) and Arts Council England (UK)
Additionally, if you would you like to register to the lab "Poetic Monsters and Pedestrian Angels", which questions the queer and the body, enter HERE
Photographic credits: Anders Mattsson
---
---