THE TRAP
20 y 21 de mayo de 2016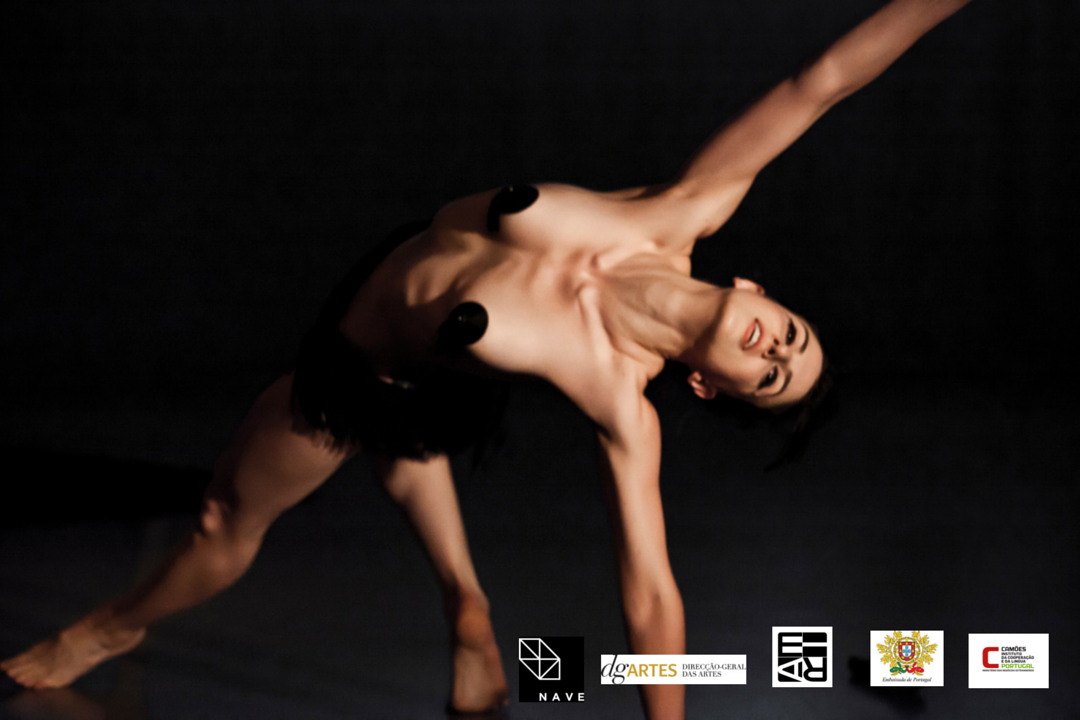 In THE TRAP Mariana Tengner Barros places herself inside the 'bodies of old glamour' – dead movie divas and burlesque stars – to have a conversation with God about art and finantial markets ending up singing an epic song out of boredom, in a deceiptful play, where things are never really what they appear to be.

THE TRAP by Mariana Tengner Barros is a trap on the ultimate trap – the society of the spectacle.

 "THE TRAP is the continuation of  my research around  themes I have been exploring in my previous solo works. I have been focusing on the obsession with the "ideal/sucessful body", a kind of evolutionary canon structured by Western society based on the consumption of goods. I am intrigued by the 'void' that begins to appear as one passes from 'private' to the 'public' body and in the desire to "become" and "obtain". These canons full of illusions and traps, wanting to keep us in a state of selfish entertainment.  I see people increasingly isolated in front of the screen, watching, sometimes appearing, with the simple purpose of being 'objectified' for the sake of a particular pleasure, to prove they exist and can, for a while, erase the burden of being 'subject'. There is a certain pleasure in being passive, in being a 'channel' for desire. Television and other media are ideal platforms to prove that you "could" be a subject. The power of 'image' is terrifying, especially when associated with the body.
It seems that no matter how much we try to fight these normative "desires" that force us to our own entertainment in irrelevant surfaces (making us the actors of the old society of the spectacle), we never manage to escape and never absolutely (because absolution is impossible). Our own body becomes both "weapon" and "target" and we continue to perceive ourselves as a bionic machine because when we look at the mirror, we want to overcome ourselves, we want an intimate "public," we want to be the poster we see, even if that means stopping what we are.   
Mariana Tengner Barros 
THE TRAP was awarded with the "PRIX JARDIN D'EUROPE 2013 – AUDIENCE AWARD,  the European Prize of Young Choreography at the 30th edition of ImPulsTanz – Vienna International Dance Festival (Austria). 
CREDITS

A solo by  MARIANA TENGNER BARROS
Artistic advisor: MARK TOMPKINS 
Assisted by : ANTÓNIO MV and NUNO MIGUEL
Video: ANTÓNIO MV and MARIANA TENGNER BARROS
Texts: MARIANA TENGNER BARROS and NUNO MIGUEL
Technical Director: NUNO PATINHO
Costume: ANTÓNIO MV
Set: NUNO MIGUEL, ANTÓNIO MV and MARIANA TENGNER BARROS 
Music : FILIPE LOPES
Dramaturgy collaborator:  JOÃO MANUEL DE OLIVEIRA
Production: EIRA
Coproduction: CIRCULAR – FESTIVAL DE ARTES PERFORMATIVAS 
Funded by CALOUSTE GULBENKIAN FOUNDATION 
EIRA is supported by the GOVERNMENT OF PORTUGAL – STATE SECRETARY FOR CULTURE / DGARTES – DIRECTORATE-GENERAL FOR THE ARTS
---
---