THE WEATHER™
26 y 27 de mayo de 2016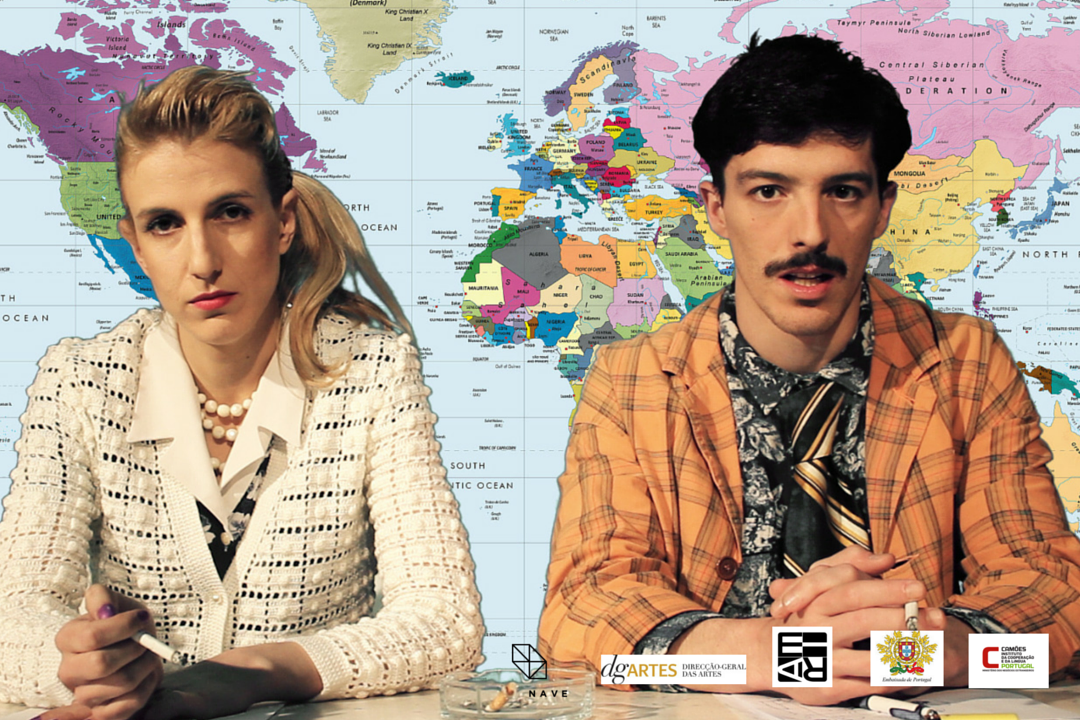 THE WEATHER™ is a dance performance created by the kaleidoscopic effect of layering duets: Mariana Tengner Barros and performer and creator Elizabete Francisca, duet between them and dancer and choreographer Luís Guerra, crossing the real and the virtual, between two-dimensional video image and the real time image of the moving body, between the whole and the psychedelic band from Cacilhas- JESUS K & the sicksicksicks, without forgetting the all-important interaction between performance and audience.
This voluptuous mix of TV mimics the american model- indigent version, inhabited by weird characters that we identify as archetypes of the televison imaginary, more dead than alive, caramelized in the thick heavy environment of the real.
THE WEATHER™ sets the sign of the times, as if we were panicking before the psychedelic zapping of the collective unconscious. Exquisite corpse that draws on references from Kenneth Anger films, the bizarre characters of David Lynch, that hosts ghosts dances from Mary Wigman or Anita Berber (and other more obscure shamans). This zapping is born in that limbo between the absurd and the very serious, leaving us adrift in the vast sea of another state of consciousness.
Puzzle of images, ideas, sensations, texts and textures, that invoke the cosmic dance between all these elements, like a storm, opening new windows of perception.
Mariana Tengner Barros
Credits
Concept and Artistic Direction: MARIANA TENGNER BARROS
Co-creation and performance: MARIANA TENGNER BARROS, ELIZABETE FRANCISCA, LUÍS GUERRA, JONNY KADAVER, PEDRO ANDRADE, SADE RISKU and NUNO PATINHO
Dramaturgic Support: NUNO MIGUEL
Video: ANTÓNIO MV
Video Support: VÍTOR D ROSÁRIO
Texts: NUNO MIGUEL and MARIANA TENGNER BARROS
Original Music (played live): JESUS K & THE SICKSICKSICKS (JONNY KADAVER and PEDRO ANDRADE)
Light Design and Technical Direction: NUNO PATINHO
Costumes/Styling: NUNO ANTUNES and ANA SOUSA
Hair & Image Support: ANASOUSAATELIER
Body Art: SADE RISKU

Special Guests:  CLÁUDIO VIEIRA, DAVID MARQUES, ROGÉRIO NUNO COSTA, GONÇALO FERREIRA, LUARA LEARTH, CATARINA FEIJÃO, FLÁVIO LEIHAN, RAQUEL SANTOS, DIANA CARVALHO, BRUNO CADINHA, JOÃO DAVID, SÉRGIO DIOGO MATIAS, LUÍS ODRIOZOLA
Production: EIRA and A BELA ASSOCIAÇÃO
Co-Production: FESTIVAL TEMPS D´IMAGES
Funded by FUNDAÇÃO CALOUSTE GULBENKIAN – APOIO À DANÇA
EIRA is supported by GOVERNMENT OF PORTUGAL – DIRECTORATE- GENERAL FOR THE ARTS / STATE DEPARTMENT FOR CULTURE
---
---